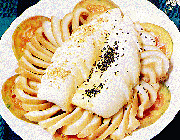 Materials :
Squid 2 body
Soya Sauce 3 big spoons
Sugar 1 big spoon
Black, White Sesame A bit

Method :
1.Clean up the squid, and boil them in hot water.ĄŁ
2.Use soya sauce, sugar to marinated the boiled squid for 2 hours.
3.Paste soya sauce and sugar on other squids, grill them in to a bit yellowish.
4.Cut both grilled and marinated squids to pieces and put on plate to serve.