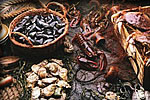 Wealth Seafood Ltd. established since 2000, over the years to import frozen seafood as our the major business. We are operating high-quality shrimp and fish products wholesale, and with many parts of the world food supply companies networking; to ensure safe and reliable source of food, fresh first an affordable solution. We welcome all friendly with the industry, catering group, wholesale, workshops, food suppliers to exchange queries.
With the Internet goes into the living of people, online shopping becomes popular. Wealth Seafood especially built an easy-to-use online shopping platform for consumers to enjoy more shopping fun and purchase our food easily. Only fill-in some information and register to us, you may order our product directly and knowing more about our special offers and products news.
We will stick to the fresh first, customer supreme principle; make every effort to provide quality services to ensure that customers buy at ease, eat with joy! Welcome to buy and visit us!